January Update:
I know we recently sent out an update to our donors and in the newsletter, but let me step back and get caught up on all the exciting things … and all the challenging things happening here.
It's been an intense first month, in so many ways.
To recap: Our fundraising campaign "Feeding the Future" kicked off with our first matching grant from the Glasscock Foundation. We met and surpassed that goal before crossing the gulf stream. Some independent fundraisers brought in more support and we received a generous donation to ring in the New Year.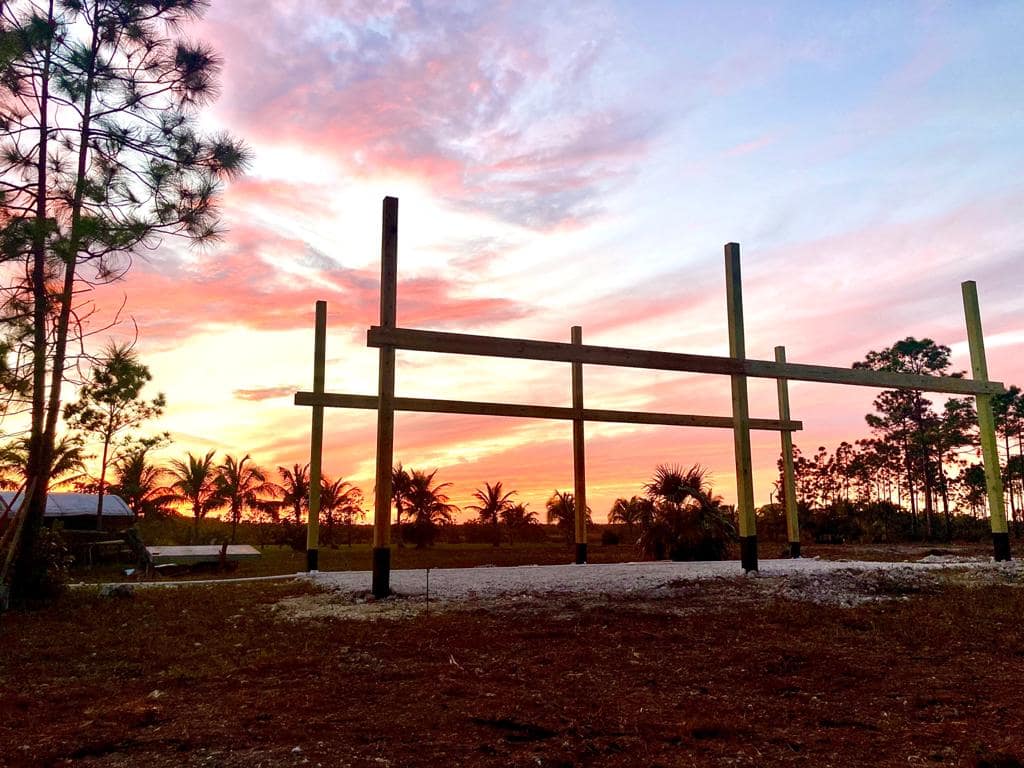 The exciting things:
We arrived in Marsh Harbor after a long month of sailing two boats and some supplies from St. Petersburg, Florida. We hit the ground running, arriving on the Tuesday before Christmas, starting our meetings on the 23rd. We broke ground on the Shade house, a 16'x32' structure to house the demonstration hydroponic and aquaponic, on January 6th. In the first week after, we got the posts in the ground, braces up, and trenches dug from the shade house to the pump house and solar field. Lumber orders are delivered for the workbench (which Kali is most excited about;)), the new pump house/ storage shed and the solar field. Orders have been placed for the delivery of our Aquaponics system and crucial parts of our Hydroponics system.
The in-kind donations have helped guarantee the success of this project. We have connected with the greater relief efforts here in Abaco and through those connections, more and more support has coming in.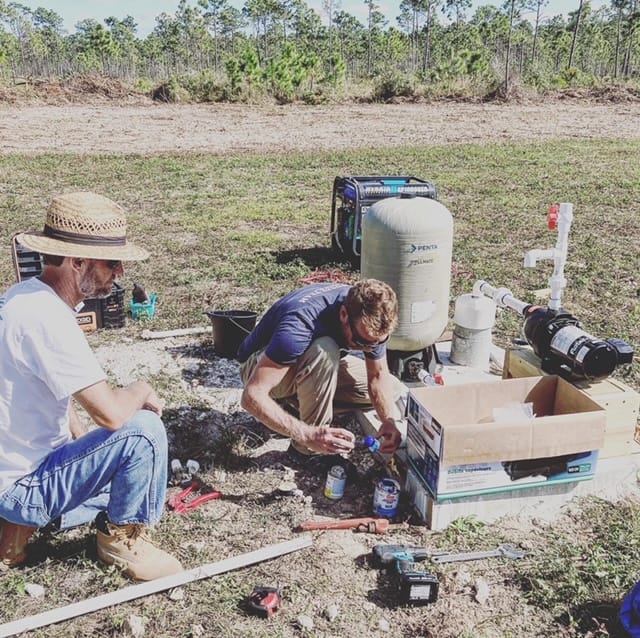 Some of the donation highlights:
~ An Aquaponics system from Perpetual Foods
~ 4 x 390 watt solar panels from Mission Solar
~Financial donations from so many in support of the efforts
($12,280.00)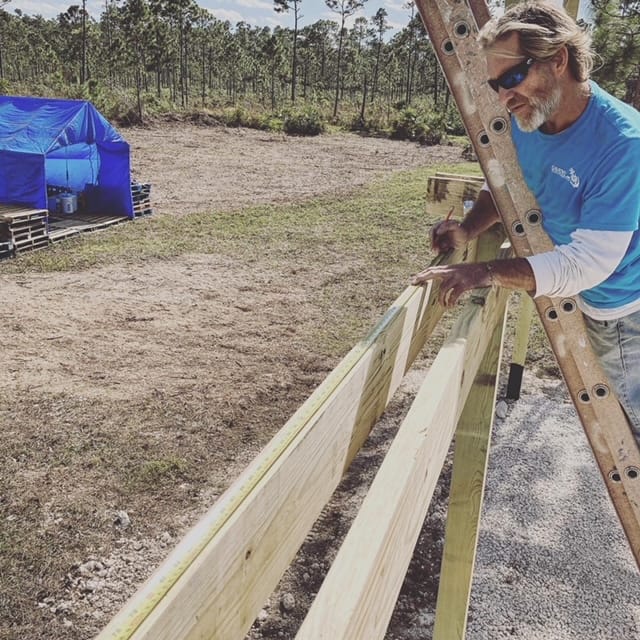 Some of the outreach highlights:
~ Talks are in the works with a local organization where we will be bringing on our first apprentices, recent high school graduates that want to get involved in sustainable agriculture.
~ The support from the community has been incredible for our first training. We have Randy & Sue Campbell of Perpetual Food flying in to host a training on aquaponics. It is tentatively scheduled (Covid-19 travel restrictions allowing) for the end of February.
~ We have connected with the relief network here and the connections it has opened have some very exciting things on the horizon and allows us to have an insight into the efficient ways the efforts are collaborating.
~ We have expanded our partnership with Abaco Neem to also include a collaboration on a large-scale soil amendment project that will be located next to and incorporated into the trainings at the FEAST Center.
~ We had our first article published on our project by our friends at the Flathead Beacon and an exciting on-site guest feature on The Morning Blend in Tampa coming up on January 25th @ 10:15 am.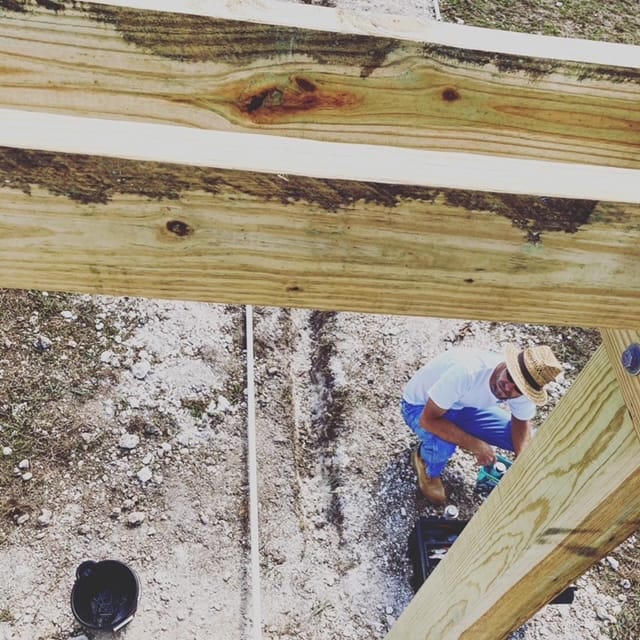 What we have covered:
~16'x32' shade house & 8'x 3 ½' work bench
~Aquaponics system: 4'x'32' beds, 150 gallon fish tank, liner, grow rafts, air pumps, grow plugs
~ Hydroponic system: 2x 55 gallon white barrels for nutrient solutions, 20 x 10'x4" PVC grow base, net cups, coconut husks grow medium
~ Pump House: newly constructed pump house for our well water access, ½ HP pump, with room for storage
~ Solar Field: Lumber necessary for panel braces, house for batteries, storage for back up generator, 4 AGM batteries and an inverter/charger- we are planning for growth
~ Seeds/trays/potting soil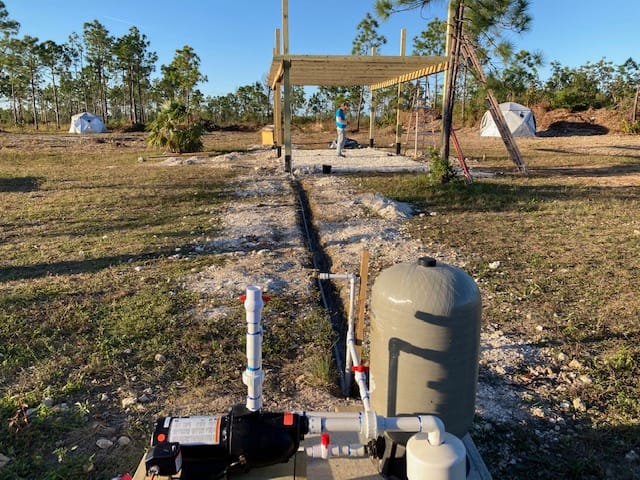 What we need:
~ 8 AGM batteries ($5,200.00)
~ Inverter ($1,500.00)
~ Financial Support
Please spread the word – Consider becoming a sustaining donor – every amount is appreciated; it counts and it makes a difference. Text AIDABACO to 44-321.
Written by Kali Kirkendall